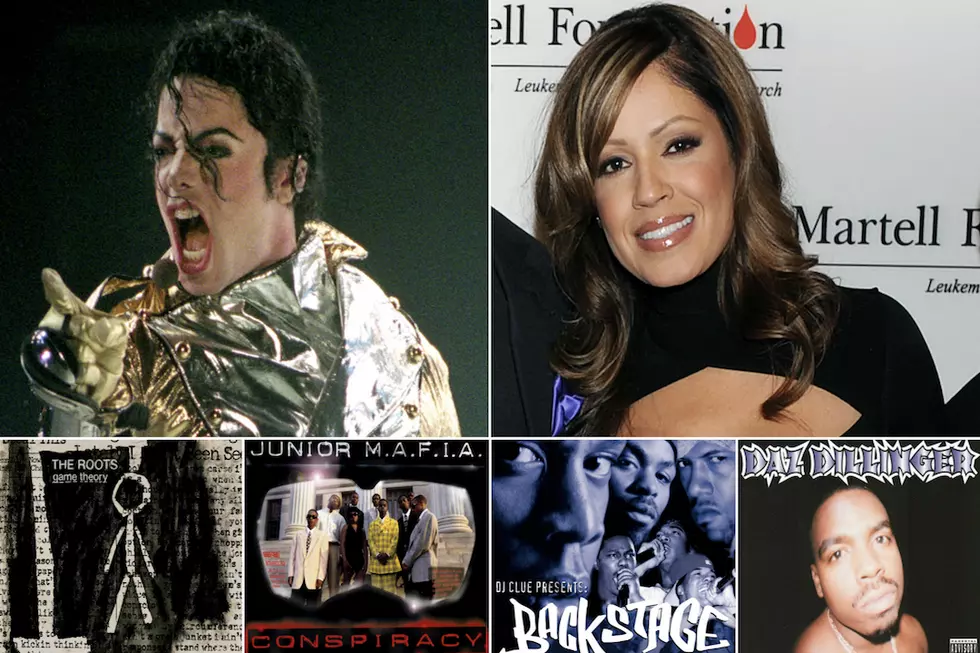 The Roots Reach a Crossroads: August 29 in Hip-Hop History
Phil Walter / Rick Diamond, Getty Images / Geffen / Atlantic / Def Jam / D.P.G. Recordz
1958: Michael Jackson is born
The eight of 10 children, Michael Joseph Jackson was born to Joe and Katherine Jackson in Gary, Ind. Of course, Michael and his older brothers Jackie, Tito, Jermaine and Marlon would later form as the Jackson 5 and as the Jacksons when they became adults in the '70s.
But Michael saw his biggest success as a solo artist. Under the tutelage of iconic and masterful producer Quincy Jones, Michael had an impressive run of hit albums beginning with his 1979 effort Off the Wall then to his biggest-selling album to date Thriller in 1982 and Bad in 1987, followed by Dangerous, HIStory: Past, Present and Future, Book I and Invincible.
According to the Los Angeles Times, the estate of Michael Jackson is earning more money now then when the late singer was alive. The estate has raked in over $2 billion since his death from a portfolio that includes successful posthumous music projects, a video game, Cirque du Soleil shows, a percentage in the EMI music-publishing catalog and royalties from the singer's master recordings and publishing rights.
1964: Perri "Pebbles" Reid Is Born
Perri Arlette Reid (née Perri Arlette McKissack), aka "Pebbles," was born on this day in Oakland, Calif. Reid got her start as a background vocalist for Con Funk Shun when she was 16 years old. She eventually signed a solo deal that led to her 1987 self-titled debut, which was produced by L.A. Reid, whom she would later marry. The album featured her two No. 1 R&B hits "Girlfriend" and "Mercedes Boy."
In the '90s, Reid became a manager and launched her own production company called Pebbitone and founded a record label, Savvy Records. Under Pebbitone, Reid managed the R&B trio TLC and helped them secure a record deal with LaFace Records. However, at the height of their fame, TLC filed for bankruptcy in 1995, leading to a contentious battle between the group, Pebbitone and LaFace that was settled in November 1996.
Currently, Pebbles is an ordained minister of the Women of God Changing Lives (WOGCL) Ministries, which she founded in 1997. She still records music although now only as a gospel artist.
1995: Junior M.A.F.I.A. are big-time players on Conspiracy
After the success of his critically acclaimed 1994 album Ready to Die, Notorious B.I.G. made sure to bring his friends from Brooklyn along for the ride. The late rhymer formed a rap collective called Junior M.A.F.I.A., an acronym for "Junior Masters at Finding Intelligent Attitudes." The group consists of Lil' Cease, Trife, Larceny, Cheek Del Velc, Kleptomaniac and the lone female rapper Lil' Kim. On this day, the group released their debut album Conspiracy on Undeas Entertainment, a label run by their managers, Biggie and Lance "Un" Rivera.
Thanks largely to the set's first single, "Players Anthem," Conspiracy reached gold status for selling 500,000 copies in the U.S., and launched Lil' Kim and Lil Cease's solo rap careers.
1995: 2Pac's seductive single "Temptations" is released
While serving a four-year sentence for sexual assault at New York's Clinton Correctional Facility, Tupac Shakur released his opus Me Against the World. In addition to "Dear Mama," his beloved ode to his late mother Afeni Shakur, the album contained the seductive track "Temptations."
"It's an incredible challenge to make a creative clip of a song without the artist," he told Billboard in 1995. "Coolio helped us out by being the first one to commit to this clip. His role as the bellboy is important, because it provides the thread that weaves together the entire concept of the video."
"2Pac wanted this to be more like a feat film than a music video," he continued. "We both wanted the video to be sexy and erotic, but not sleazy. It definitely pushes the envelope, but then it throws in comedy to keep things form getting too serious."
2000: DJ Clue? Presents: Backstage Mixtape hits stores
Throughout the '90s, DJ Clue? was known for dropping the hottest mixtapes for the streets. Following the release of his 1998 compilation album The Professional on Roc-A-Fella Records/Def Jam, the Queens DJ was tapped to put together a mixtape-like soundtrack for the 2000 documentary Backstage. The film chronicled the craziness of the Hard Knock Life Tour featuring Jay-Z, DMX, Redman & Method Man, Ja Rule and others.
2000: Daz Dillinger goes independent and delivers a R.A.W. album
Daz Dillinger has cemented his legacy in West Coast hip-hop as one of the founding in-house producers for Death Row Records. He has produced hits for Dr. Dre, Snoop Dogg and the late Tupac Shakur, among many others. As an artist, he was one-half of The Dogg Pound with lyricist Kurupt. Following his departure from Death Row, Daz launched his own record label D.P.G. Recordz and dropped Retaliation, Revenge and Get Back in 1998. He followed that with his second album R.A.W. in 2000. As the title suggests, the project features Daz spitting raw rhymes about his life growing up in Long Beach, Calif., which consists of gangs, busters and conniving women.
2006: The Roots reach a crossroads with Game Theory
In 2006, after fulfilling their contract with Geffen Records, the Roots had a crucial decision to make, sign with another label or just be a touring band for the rest of their lives. Eventually, the Philadelphia group signed a new record deal with Def Jam. While the Roots didn't necessarily fit in with the sound of the typical Def Jam artist, Jay-Z, who was the label's CEO at the time and a friend of the band, wanted them on Def Jam. However, Hov was apprehensive about signing them at first.
"Jay-Z was scared to sign us, but for the wrong reasons," explained drummer Questlove in a 2012 interview with Complex. "The album that came before our first Def Jam album was The Tipping Point. [At that time] we didn't have a relationship with Jimmy Iovine at Geffen. So we had to approximate what we thought [Jay] would like. So, we kind of stumbled."
"Jay-Z said, 'Nah man, I want y'all to do a real Roots record. Don't figure out what Jay-Z wants because then I'ma look like the bad guy that killed y'all,'" he continued. "I never had a label president beg me for an art record before. Like, 'Please, no radio singles. I don't want no radio.' So that's what we did with Game Theory."
Game Theory is a phenomenal album of raw and powerful hip-hop music. Standout tracks include the piano-driven "Don't Feel Right" and the throbbing beats on "In the Music," which features former Roots member Malik B. The song "Here I Come" is now Jimmy Fallon's walk-out music on The Tonight Show. The J Dilla tribute "Can't Stop This" ends the album and shows why Black Thought is such an astute lyricist as details the late producer's influence in hip-hop.