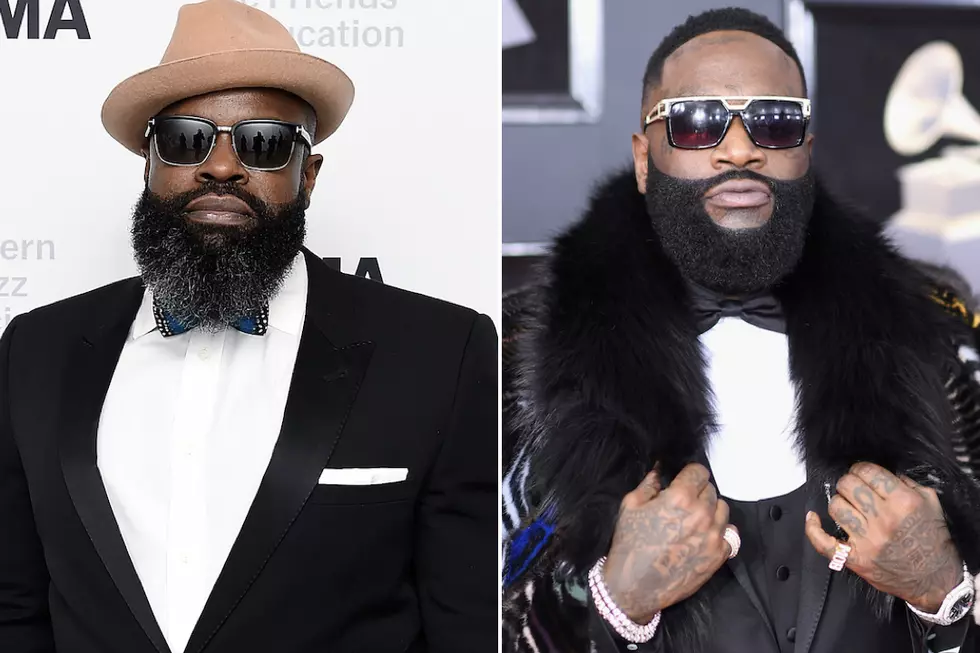 Black Thought Says He's Often Mistaken for Rick Ross: 'I'd Rather Not Correct Them'
Nicholas Hunt / Dimitrios Kambouris, Getty Images
Black Thought is arguably one of the best lyricists in hip-hop, and he's currently basking in the spotlight following his phenomenal freestyle performance on Funkmaster Flex's #Freestyle series. His popularity has grown so much that people often mistake him for another prominent rapper -- Rick Ross.
In an interview with NPR, Black Thought talked about his rap doppelgänger in Rozay and how he reacts to people who think he's the Miami "bawse." While some artists might find this annoying, the Philadelphia MC embraces it because he doesn't want to destroy the moment.
"And I don't know that I've ever corrected anyone — like I've never said, 'No no, I'm not Rick Ross, I'm Black Thought from The Roots,'" he explains. "Sometimes little kids come up to me shaking: 'You mind if I take a picture?' And I'll take a picture and I'll hear one whisper to the other: 'I love Rick Ross.'"
"I'd rather not correct them. I let people have that moment, because for them it's just as special," he continued. "I don't say, 'No, no. It's me, the dude from The Roots.' But sometimes I've had people come in [and] talk to me for you know five, seven, 10 minutes about how I've impacted their lives and, you know, how important my music has been. And I might start to assume that they recognize me. And then they'll get to the end and it's like, you know, 'Thank you, Rick."
Elsewhere in the interview with, Thought talks about how his parents' death affecting him growing up in Philly, his Hot 97 Freestyle and whether his rap moniker is to black for TV.
Meanwhile, Thought is set to release his new project Streams of Thought, Vol. 1 - EP on Friday (June 1). The collection features production by 9th Wonder and the Soul Council. You can pre-order the album right now on iTunes.
20 '90s Albums That Are Unapologetically Black