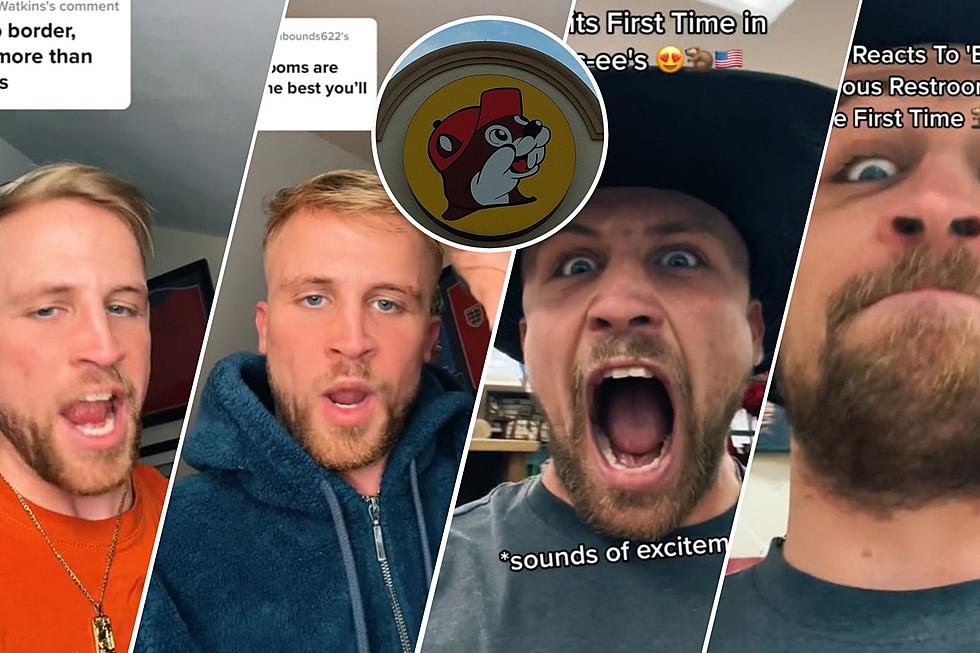 Hilarious Brit Chronicles His First Visit to Texas and Buc-ee's on TikTok
Buc-ee's - Michael Gibson Townsquare / Media - imjoshfromengland2 via TikTok
For us native Texans, or those who have lived here for at least a couple of decades, we understand the awesomeness of our state and may sometimes take for granted what others find absolutely fascinating. Just talk to your out of state friends and you'll see that they find it hard to believe some of the facts or fun things about our state. For one gentleman from Great Britain, he was getting ready for his first visit to Texas and was surprised by some follower's responses to various facts about Texas and the importance of stopping at a certain gas station. Let's take a look at his hilarious videos below.
A Brit's First Visit to Texas
His name is Josh and he is from England. Back in March, he started talking about his upcoming trip to America. Part of that trip was driving across Texas. A follower of his commented that Texas is more than 800 miles across and Josh's mind was blown by this statistic. From there, he got comments about stopping at Buc-ee's and how impressed he would be by the bathrooms. His reaction to these comments was both a bit of confusion (Why are we obsessed with a gas station's bathrooms?) and excitement (a gas station the size of England). Take a look at his videos leading up to his trip to America below.
I think you just accidentally added a zero on the end of that number, haven't you?...800 miles?! Do I look like Superman?! NOOOO! - imjoshfromengland2 on TikTok
Josh's Visit to Buc-ee's
Fast forward to early May and Josh is making his way across Texas and making his first stop at Buc-ee's. He is right that you could basically run a marathon in a parking lot of Buc-ee's because it is that big. His genuine joy as he's walking around the store full of plushies, t-shirts, home goods and snacks is awesome. Then comes the true reason for the visit, the famous so-clean-you-can-dine-in-them bathrooms. Well, his reaction is priceless.
Glad You Enjoyed Your Visit
Josh, we're glad you enjoyed your visit to America and very happy you loved your experience in our great state of Texas. Come on back anytime and enjoy another adventure in Texas like floating the river or fishing on Lake Fork or camping anywhere in the state. Give Josh a follow on TikTok at imjoshfromengland2 for more of his social media tales.
Your Information is Worth Up to $7,500 for These Top 10 Wanted Texas Fugitives
These wanted Top 10 fugitives and Top 10 sex offenders are hiding from Texas law enforcement so they don't go to, or back to, jail.
10 Things Every East Texas Small Town has in Common
Whether growing to big for it's britches or staying the lovely small that it is, every small town has these things in common. I'm picking on my hometown of Lindale, but for this list, you will find something very similar in your small town, if not all of them.
The Perfect Getaway for Your Super Mario Bros. Fan is in El Paso
This Airbnb in El Paso would be a great getaway for the kids and for the kid at heart.