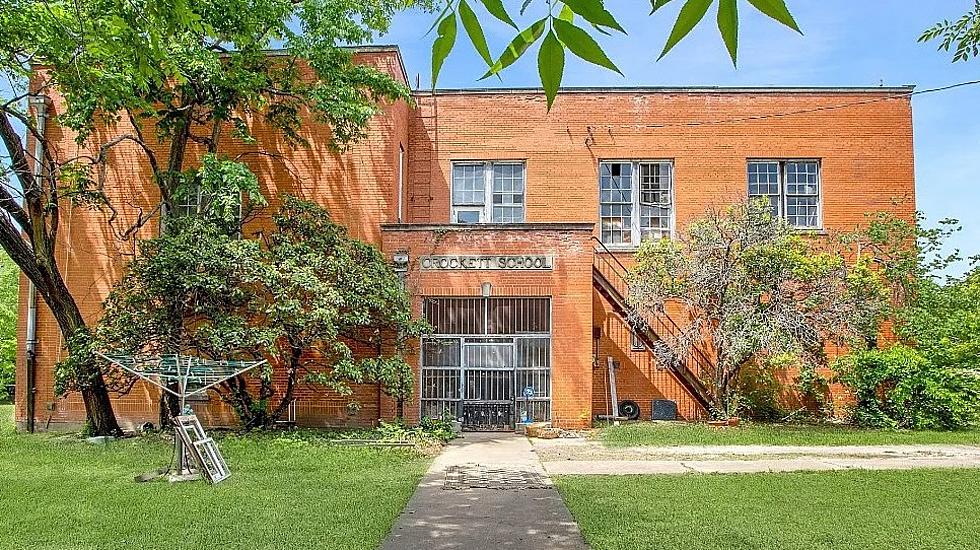 Historic? Haunted? Both? How You Could Own a 1910s Texas Schoolhouse
zillow.com
A huge schoolhouse built in 1912 is currently for sale in Sherman*, Texas. I've driven through Sherman many times as it is en route between Dallas and Eastern Oklahoma. It is a beautiful and green place, and while it may be a modest-sized city, it certainly gets a lot of through traffic.
*Fun Fact: my darling colleague Kelsee Pitman was born there. 
Crockett School has been partially remodeled as a living/ studio space. It is undeniably historic, but some of the un-remodeled areas give off "haunted" vibes. I'm sure with some TLC, the entire structure can be chich instead of spooky. Unless you are into spooky (I am). Then you could just lean into that vibe but make those areas more functional. It certainly has a ton of potential, be it residential or otherwise:
The building contains three floors with four large classrooms per floor plus original teacher's lounge, library, principal's office, and almost 2,800 sq ft auditorium with original seats.

 
Take a tour of the grounds of Crockett School, and dream of what it could be. You'll go from the sunny grounds, into the remodeled areas, and then up into the floors that might give you a little chill, but will give you even bigger ideas.
Historic? Haunted? Both? How You Could Own a 1910s Texas Schoolhouse
Crockett School, built in 1912, is currently for sale in Sherman, Texas. Many of the original details are still visible, as a great deal of the structure has not yet been renovated. At a whopping 24,000 square feet, the possibilities for this property are endless.
This Texas Airbnb is a Converted Silo & Has Been Featured on HGTV and NBC
Take a vacation to get away from it all at this secluded Airbnb.
Spectacular & Elegant Texas Home Will Have You Chasing Waterfalls
Here in Texas, water is sacred, and this home stands in homage to the surrounding waters of Lake Travis. Flowing designs are a constant motif both in and out of the home, with cascading stairs and its own, private waterfall.