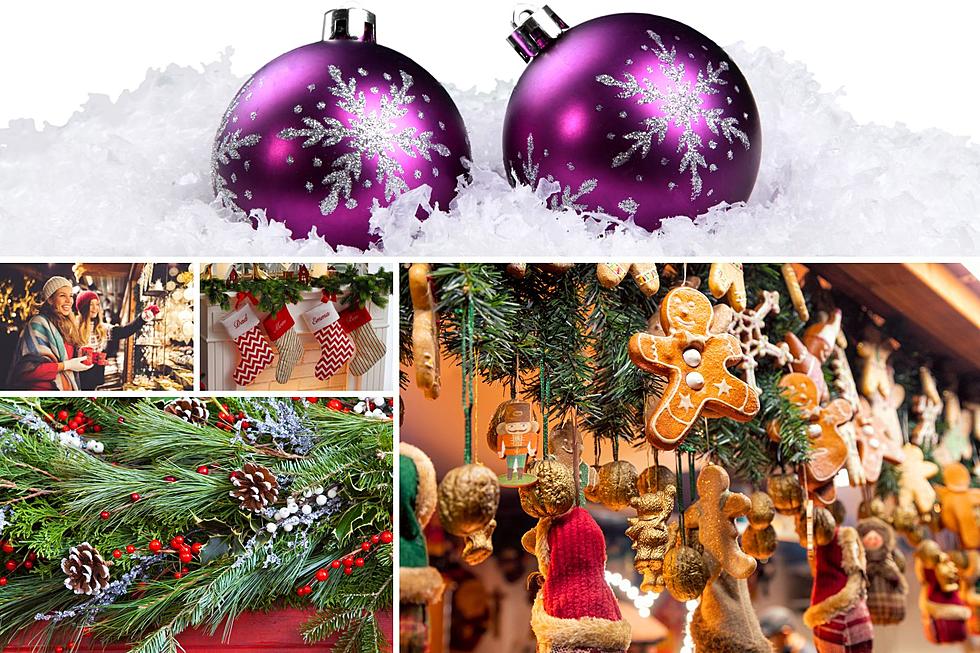 Holiday Market Shopping Dominates East Texas Events This Weekend
Canva
Here it comes, the final full weekend before the holiday rush begins in East Texas unless the holiday rush is already underway for you. At this point, it feels as if Thanksgiving is approaching with a vengeance. Over the next few weeks and weekends, there will be plenty of cooking, visiting, and shopping taking place, so this is your final weekend to relax before the rush hits.
There might be a couple of things you'll still want to do this weekend, like get the turkey out of the freezer sometime during the next couple of days to begin thawing that big bird out. If you're deep frying that turkey, you'll want to make sure it's thawed. After all, you don't want to drop that frozen bird into a pot of boiling oil or put one that's frozen still in the oven because it will not cook evenly.
Or you might want to begin hanging up your Christmas lights on the house. If this is you, thankfully it will be an extremely comfortable weekend to get it done. At this time, sunny to partly sunny skies are expected with temperatures in the upper 60s to near 70 this coming weekend.
Here's a look at this weekend's events in East Texas.
For more information on any of these events, click or tap on the event name to be redirected to their official event page or website.
Friday and Saturday, November 17th and 18th
Maude Cobb Activity Center - Longview
This two-day holiday shopping event will feature more than 40 specialty boutiques and vendors from across the nation that will be showcasing and selling holiday decorations, art, gourmet foods, gifts, and more. This is a ticketed event that will support Longview community programs and non-profit agencies.
Friday @ 7p
Belcher Center - Longvivew
The beloved family tradition is back: NUTCRACKER! Magical Christmas Ballet! Gather your loved ones for the warm glow and nostalgia of America's favorite Christmas celebration. Experience the extraordinary international cast and Ukrainian Principal Artists performing at the peak of classical European Ballet. Be transported by the magic of jaw-dropping acrobatics, larger-than-life puppets, and stunning hand-crafted sets and costumes
Saturday 11a - 4p
downtown Tyler
Local hand-crafted artisan goods to the latest runway styles will be on display and for sale at this local pop-up market in downtown Tyler. Shop local art, baked goods, artisan, and boutique shops. There will be live music to listen to as you do all of your shopping.
Saturday 10a - 4p
The Church At Lake Cherokee - Henderson
It's shopping season and this market will feature more than 40 local artisans selling their crafts, unique goods and baked homemade items. Start or finish off your holiday shopping this Saturday and support local artisans and bakers.
Saturday 10a - 5p
1301 Royall St. - Palestine
Curious Museum is a STEM museum with hands-on experiences for children and adults. Learn how things move, fly, and more. This weekend features some holiday-themed activities like Christmas tree whirligig and more. There is an admission
These 15 Texas Lottery Scratch Offs Still Have Huge Jackpots Available to Win (Numbers Accurate as of November 14, 2023 11:56 a.m.)
Buying a Texas Lottery scratch off is a lot of fun and could still be very profitable for you.
Gallery Credit: Texas Lottery
15 New Buc-ee's Locations Being Built, 3 in Texas!
Here is a look at the 15 new Buc-ee's locations that are in the process of being built.
Gallery Credit: Billy Jenkins
10 Best Truck Stop Restaurants, 2 Located in Texas
Here is a look at 10 of the very best truck stop restaurants in America including two found in the state of Texas.
Gallery Credit: Billy Jenkins