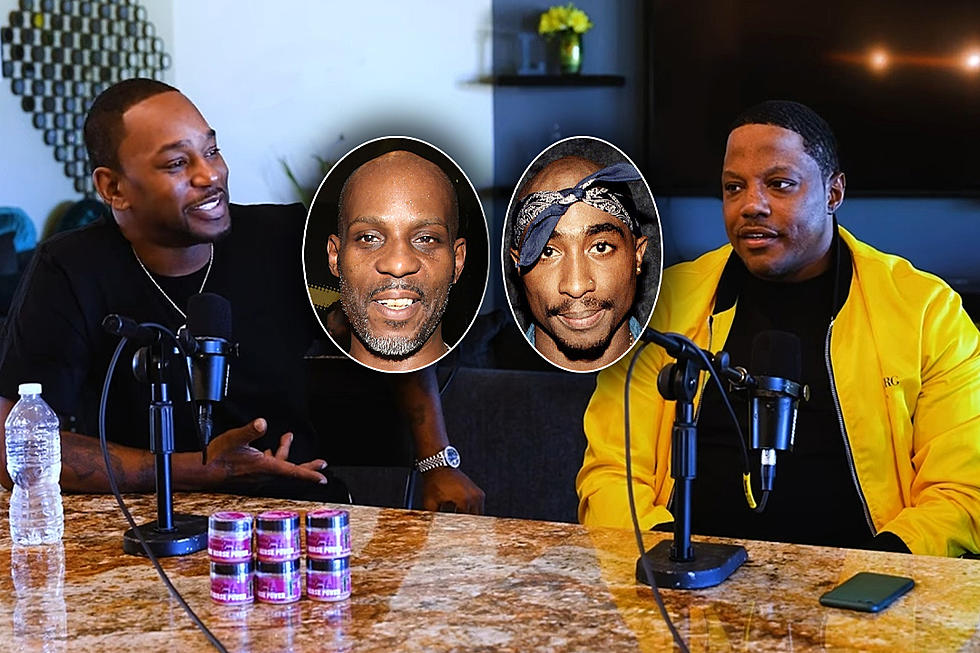 Cam'ron and Mase Both Choose DMX Over Tupac Shakur During Debate
Million Dollaz Worth of Game/YouTube/Shareif Ziyadat/Raymond Boyd/Getty Images (2)
Cam'ron and Ma$e both chose DMX over Tupac Shakur during a recent hip-hop debate.
Cam'ron Says He Chooses DMX Over Tupac Shakur
On Monday (Nov. 13), longtime collaborators and current hosts of the It Is What It Is talk show, Cam'ron and Ma$e, joined Gillie Da Kid and Wallo on the most recent episode of their Milion Dollaz Worth of Game podcast. At one point during the nearly 90-minute show, the two Harlem rap legends were asked for their respective opinions on who they think is better, the late DMX or the late Tupac Shakur. For their own reasons, they each chose the former Ruff Ryders frontman.
"Me personally, I seen DMX I didn't really get to see Tupac," Cam'ron begins the debate around the 26:20-mark in the video below. "I'm talking about on tour with DMX. I was in the studio with DMX. I actually got to see n***as go lose they mind about DMX.
Cam continues: "I know n***as loved Tupac but I didn't get to see him on tour and doing anything else. So, for me, it's going to be DMX because I actually got to be a part of or see from when he was just in the tenement rapping to selling 10, 20, however many millions of records he sold. I seen the whole process."
Mase Thinks DMX Is a Better Rapper Than Tupac Shakur
As the attention switched to Mase and his opinion, he agreed with Cam'ron and explained that due to his undeniable showmanship, he feels as though DMX has the upper hand over Tupac Shakur.
"To me, I would definitely have to say DMX," Mase tells Gillie and Wallo. "And not just east/west. Like, when you saw the energy, pause, that this n***a DMX gave, you could stop one lyric that he would be saying and the whole concert, and the whole arena would say it.I think a lot of times because you learn the flaws of n***as, you forget how great n***as really were. DMX was one of those special, special talents."
He adds: "Pac was phenomenal, too. I can't take nothing away from 'Pac but I think DMX had more than 'Pac. I'ma go on the record and say that he had more than 'Pac because DMX was able to give you... He touched n***as, pause, in a different way than 'Pac did."
In the episode 246 of the Million Dollaz Worth of Game podcast below, check out Mase and Cam'ron debate whether or not DMX is better than Tupac Shakur.
Watch Cam'Ron and Mase Choose DMX Over Tupac Shakur During a Debate on the Million Dollaz Worth of Game Podcast
See Hip-Hop Slang of the 1990s to Reminisce Over
Here are 40 slang words from the 1990s defined.