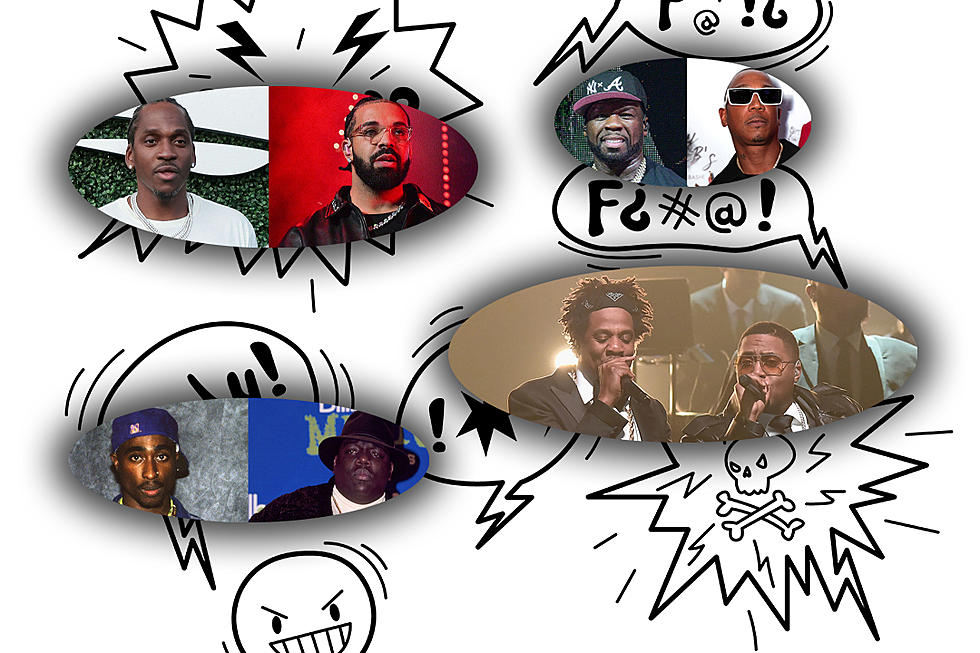 20 of the Wildest Insults Rappers Said During Beefs
Valentina Levashina/Jean Catuffe/Prince Williams/John Lamparski/Tim Mosenfelder/Larry Busacca/Theo Wargo/Getty Images (8)
Rappers have more in common with athletes than not, especially since hip-hop can be looked at as a sport. It's the competitiveness between MCs that sometimes leaves only room for one at the top. Competition begets aggression that leads to feuds, which ultimately starts a rivalry.
In the NBA back in the 1980s, the Boston Celtics and the Los Angeles Lakers were in a heated rivalry. When both teams met, viewers watching knew it was going to be an all-out war. There were going to be fights, blood would be shed, and there were certainly no hard feelings. Fans from both sides were heavily invested and the media constantly created headlines. This Boston-LA rivalry made the NBA more exciting, even for someone who does not watch basketball.
Beefs in rap have the same effect. Most everyone is familiar with the decades-long beef between 50 Cent and Ja Rule. The issues between the two New York rappers meant nothing was off the table in this beef. There were diss tracks, fights, stabbings, shootings and more. Rap fans worldwide were fully engaged in the battle and so was the media. Today, 50 Cent and Ja Rule still trade shots at each other.
It's not uncommon for beef to get out of hand, but it usually just starts with words. For example, in 2002, when The L.O.X. had issues with Roc-A-Fella Records, Beanie Sigel spit a freestyle on Hot 97 directed at Jadakiss. Recently, Beanie Sigel revealed that after this freestyle, Jadakiss grabbed his gun and went looking for the Roc-A-Fella rapper. Jada didn't take too kindly to Sigel's insults.
There are plenty of other times that rappers hurled wild insults at their opposition. Pusha T vs. Drake, Jay-Z vs. Nas, Tupac Shakur vs. The Notorious B.I.G. and many more. Check out the gallery below for 20 of the wildest insults rappers have said in beef.—Brandon Simmons
See Rappers' Most Wildest Insults They've Said During Beefs