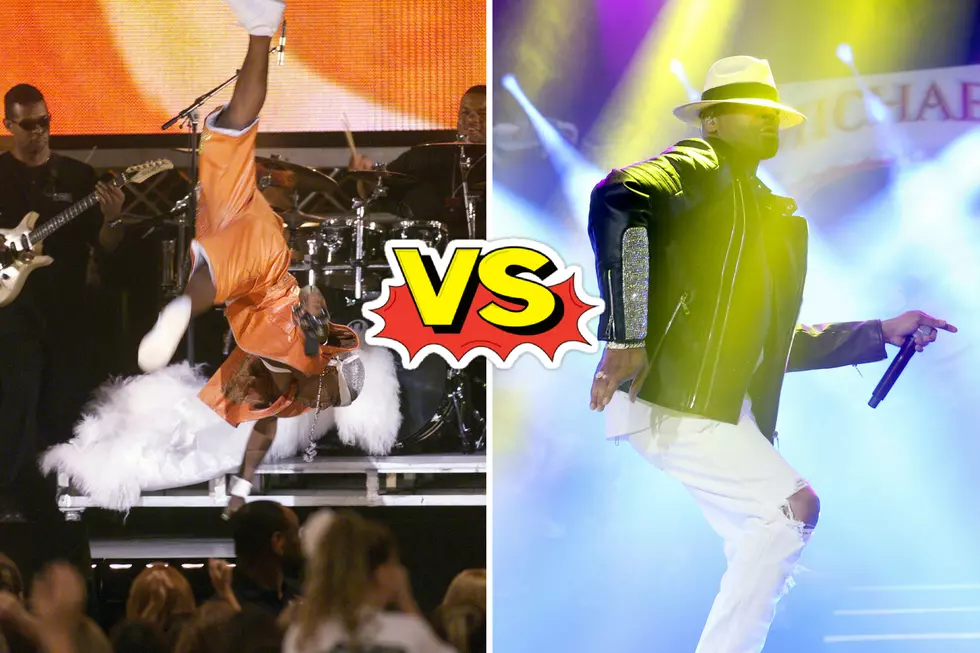 SisQó vs Ginuwine: Who Was the Better Dancer of the '90s?
Scott Gries/ImageDirect, Bennett Raglin/Getty Image
The '90s wasn't just the golden age of hip-hop, it was also an era when R&B singers took the term 'rock star' to new heights. Bubble-gum pop (think New Edition), was up against sexed-up ballads sung by Jodeci and H-Town. Guys wanted to be them, and the ladies fell at their feet in hopes of a rendezvous, among other things.
Ginuwine hit his peak (no pun intended) during this era. The singer, born Elgin Lumpkin, was your archetypical heartthrob: a light-skinned, sex symbol with a head full of shiny curls and a square-jawed that made both teens and grown women turn to goop on the floor when they saw him. He also had a way with slicked-down baby hairs (C'mon, the man deserves credit for helping to spear-head this long-standing trend). The entertainer honed his skills at 12, performing at parties around D.C. as part of the hip-hop group, Finesse Five. He then perfected his craft by studying the greats: Michael Jackson, and Prince, and built a name for himself as an impersonator of the former, along with moonlighting with the group, Physical Wonder.
By '93, he was rolling with the R&B collective, Swing Mob (also called Da Bassment Cru) founded by Jodeci's DeVante Swing in New York, which ultimately lead to him linking up with Timbaland.  The result: "Pony." The accompanying music video was a nice introduction, but you've got to appreciate his presence as a true performer when the music videos for "I'll Do Anything/I'm Sorry" and "What's So Different" from his debut album, Ginuwine… The Bachelor came out. And then there was SisQó.
Part of the R&B group Dru Hill, SisQó, born Mark Andrews, was short, had a platinum Caesar haircut and a complexion dipped in milk chocolate. He also had a voice that was unique at the time: when other male R&B singers played it cool, he wasn't afraid to put his heart into his songs. But he was determined to form his destiny as a triple threat. And, in 1999, he released his solo effort, Unleash the Dragon, which featured his most popular single to date, "Thong Song."
Both artists were different yet similar. They're both from the DMV (D.C., Maryland, Virginia area —although most people wouldn't consider Baltimore part of "the area" as it's affectionately called). Both had moments made you squirm, both made great music, and both of them were around during an exciting time in black music, which is why we're doing a face-off to see who the better dancer was in the '90s. Most importantly, what was it that made one better than the other? Was it strictly moves? Was it swagger? Let's break it down and find out.
The moves in Dru Hill's Tell Me were basic. It's understandable, seeing that the choreographer had to accommodate an entire group; not just one person. When it came to SisQó's part, he teased his female fans (which was pretty much the whole audience) with a rose while flexing in sunglasses, but it wasn't enough to highlight him as a standout. And, the track itself was a traditional R&B jam produced by Stanley Brown.
Ginuwine, on the other hand, came out with a bang. On his debut single, "Pony," Timbaland created a synth-effect by mixing in a vocoder bassline resulting in a sound (the infamous burping noise) and cartoon sounds that were unlike anything we'd heard before on an R&B track. The funky song was accompanied by a Cowboy-themed music video, with Ginuwine slithering like a snake when describing what he'd to do to the object of his desire.
Winner: Ginuwine for his seductive moves. 
"Sleeping in My Bed" (Remix) vs. "Tell Me Do U Wanna."
Dru Hill's In My Head was one of the most talked about videos when it came out for its storyline. Men singing about women cheating on them wasn't a thing at the time, and his competition (sexually) is his crew, Joey from the block, Tyrone and another woman added a severe shock factor to the mix.
Ginuwine played up his air of mystery, particular in the music video for "Tell Me Do U Wanna." The video was also on a futuristic tip, with the singer watching a playback of a hologram of him and his lady friend, well, having sex. It was probably a bit creepy, in retrospect, but again, the crooner is not short on slick moves.
Winner: SisQó for making the Bankhead Bounce a nationwide dance. 
"How Deep is Your Love" vs. "Same Ol G."
Appearing on Dru Hill's Enter The Dragon album, "How Deep Is Your Love" was the lead single from their sophomore album. The song was tailored to fit the Hollywood blockbuster, Rush Hour starring Chris Tucker and Jackie Chan. This opportunity was a standout moment for SisQó, who was more extra than his groupmates. But the main takeaway here is that he's style more than anything. It wasn't so much his moves, it was his voice, which is the driving force when it comes to his talent.
Ginuwine, once again, "Same Ol G" drives it home. He's still the cute face, but so is his son, who you can see was starting to adopt his dad's slick dance moves. And Ginuwine presented himself as a down-to-earth guy. His movements in this song were less flamboyant, but the point is that he could still stunt on 'em, which was the point. At this stage, it was like the singer was walking on water when he moved.
Winner: Ginuwine for keeping it real. 
"You Are Everything" (Remix) vs. "What's So Different."
Dru Hill's "You Are Everything" featured Ja Rule and even saw Nokio showcasing rap talent. At this point, Dru Hill was merely an outfit for SisQó, who seemed more concerned with his solo presence. Nonetheless, the video was a sign of the times: music videos were getting more expensive, and the video for "You Are Everything" reflected that.
"What's So Different" took things a step further, though. At this time, Timbaland and friends started to infuse surrealism in their music videos. In this piece, Ginuwine had become more than a sex object. There was a story created around his mysterious persona. And his choreography was part of the storyline. His moves were as surreal as what was going on around him. "What's So Different" was Ginuwine at his best, and the music video solidified his status as a performer.
Winner: Ginuwine steals the stage. 
"Got to Get It" vs. "So Anxious."
By this time, SisQó had finally spread his wings. "Got to Get It" the lead single from his solo effort, Unleash the Dragon, had a great music video: it was shot by the visual icon Hype Williams, who gave it a glossy appeal and played on the petite singer's strength. The singer upped his dance game for this one. He bounced around the screen breaking into ballet-infused choreography with a hip-hop swag, but there was something contrived about his performance. He is talented, but he seemed obsessed with precision, unlike Ginuwine who could go with things. It's an excellent video, but there was something about SisQó that made his efforts seem a tad… corny.
"So Anxious" was perfect for those intimate moments, but it wasn't a standout for Ginuwine, by any means. The song's saving grace was, of course, when Timbaland cuts in towards the end telling the crooner to "Make 'em dance" which he obliges.
Winner: Ginuwine wins by a landslide. 
"Thong Song" vs. "None of Ur Friends Business."
"Thong Song" was the track that thrust SisQó into the pop stratosphere. It would ultimately – to his detriment – become the song that made him a household name. But while it made SisQó a global sensation, it's not a classic song per say. And the music video was full of clichés and made SisQó more of an enigma than a sex symbol, or an artist to be taken seriously.
Ginuwine went public about his romance with Sole in the music video for "None of Ur Friends Business." The singer seemed more focused on slow jams on 100% Ginuwine, his sophomore album, however, he'd always include an interlude towards the end of the video (using George Kranz's all-time classic, "Din Daa Daa"), letting fans know he could still get down.
Winner: Ginuwine wins this round. 
Ginuwine killed it, hands down. SisQó gets props for his style, which came naturally for him, but his presence as a performer felt forced in comparison to Ginuwine, who had years of practice (that's what happens when you channel both Prince and MJ and hang around DeVante). He had an air of confidence about him, and it transpired in his ability to slide seamlessly across the stage. And, of course, he had an aesthetic that was reflective of the time. SisQó, on the other hand, was a pint-size singer who could out sing just about anyone, but when it came to real stage presence, he couldn't hold a candle to Ginuwine's smooth dance moves.