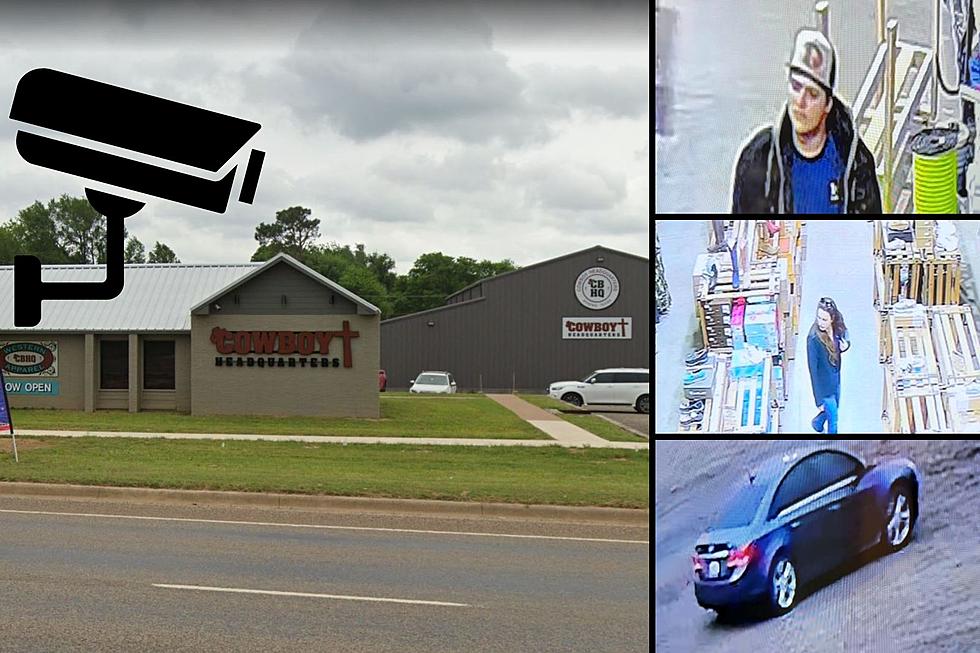 Can You Help Identify This Couple in Athens, Texas?
Cowboy Headquarters via Facebook, Google Maps, Canva
Being a business owner in East Texas isn't easy, but it's a lot more difficult when you're constantly having to worry about product theft at your business. It's an unfortunate part of doing business, theft happens everywhere but to help make sure this doesn't happen again we are wondering if you can help identify the people in these photos. The pictures were from Cowboy Headquarters in Athens, Texas and they need help identifying these two individuals. 
The good people at Cowboy Headquarters posted on social media about wanting to identify these two people although they didn't go into the specifics on why they want to do so. Even if you don't know who these individuals are it would be very helpful to the East Texas business if you would share this information just in case one of your friends could help identify the people in the surveillance photos.  
Maybe You Can Identify the Vehicle
If you're not sure of the people on the surveillance photos also caught on camera was the vehicle that the pair were driving. If you have any idea on who these two might be you're encourage to speak up. 
A Closer Look at the People in the Photos
If you can identify either or both of the people in these photos, you're encouraged to contact Cowboy Headquarters by phone at 903-226-9269 or you can contact them on social media. Here is a look at the people one more time that Cowboy Headquarters is asking for help to identify:  
Surveillance Photos from Cowboy Headquarters
Cowboy Headquarters in Athens, Texas is asking people to help identify the people in these photos.
Inside Amazon: A Detailed History of America's Biggest Online Retailer
Stacker
compiled a list of key moments in Amazon's history and its current business from a variety of sources. Here's a look at the events that turned an online bookstore into a global conglomerate and a self-made entrepreneur into the world's second-richest man.