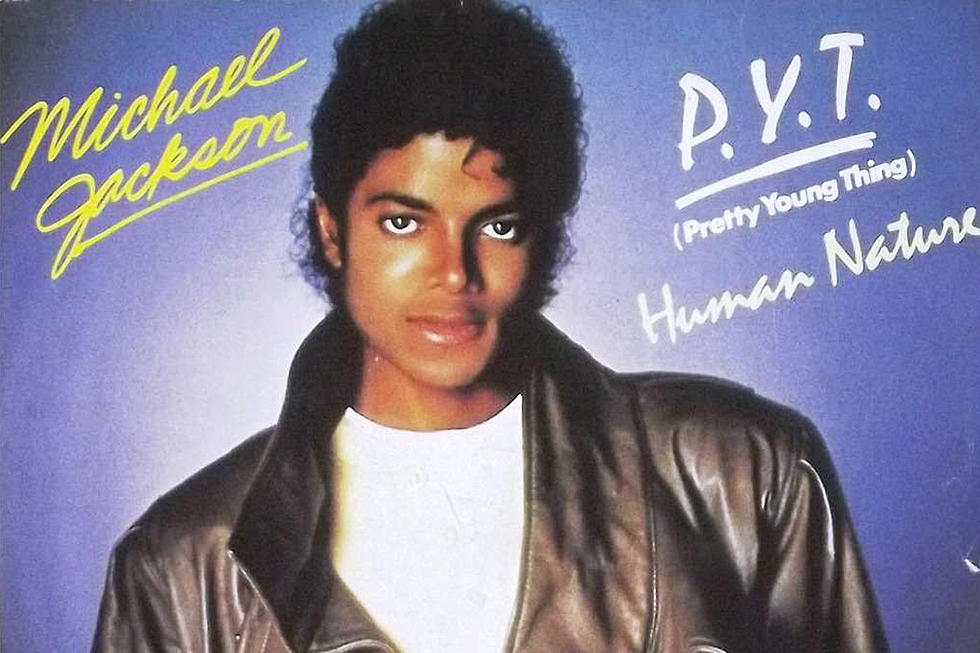 Pretty Young Things Repeat After Me: Why Michael Jackson's 'P.Y.T.' Remains Timeless
Epic
For all his popularity, he felt short-changed. He knew the musical maturation found on 1979's Off the Wall had manifested into a newfound independence that was neither rewarded nor properly recognized by the establishment. The high sales figures for the album and its singles had resulted in only two Grammy nominations for "Don't Stop 'Til You Get Enough," and none in the major categories (he won for Best R&B Vocal Performance, Male). He was also angry that Rolling Stone passed on putting him on the cover.
"I've been told over and over that black people on the cover of magazines doesn't sell copies," he fumed in Michael Jackson: The Magic and the Madness. "Someday those magazines are going to be begging me for an interview. Maybe I'll give them one, and maybe I won't."
So, for eight weeks he channeled that unbridled rage at the legendary Westlake Recording Studios in Los Angeles. He reunited with producer Quincy Jones and songwriter Rod Temperton, and recruited members of the rock band Toto to contribute to the creative process. Fellow musicians Paul McCartney and Eddie Van Halen helped fortify his sound, and even horror film legend Vincent Price soon joined the fold. Jones raised the stakes even higher, giving the strict mandate that "every song" must be "a killer."
"Quincy goes into the control room," recording engineer Bruce Swedien recalled, "We're all standing there waiting to see what he is going to say and you know what he told us? He said, 'O.K. guys we are here to save the recorded music industry.' … We wanted the sonic values of Thriller to recharge the industry."
What resulted was 1982's Thriller: a sonic masterpiece that became the best-selling original studio album of all time, and arguably among the most influential. Praised for its feisty attitude, dazzling array of vocals and universal appeal, he delivered an unrivaled experience that superseded music and both resuscitated and redefined the entire entertainment industry. Furthermore, it cemented his status as a cultural tour de force and pop's preeminent act.
He couldn't be overlooked this time. Not only did he get that Rolling Stone cover, but on Feb. 28, 1984, he took home eight Grammys, including the two biggest -- Album of the Year and Record of the Year.
But while "Billie Jean" gave us flair, "Beat It" gave us defiance and "Thriller" gave us nightmares, it was Thriller's sixth single, "P.Y.T.," that provided a jolt of ecstasy. Released on Sept. 19, 1983, its original incarnation, crafted by Michael and keyboardist Greg Phillinganes, was a breezy and innocuous tale of an omnipresent lover he deems his "heavenly prize."
But Quincy Jones wasn't feeling it. He scrapped the song entirely and entrusted promising songwriter James Ingram to reconfigure it into a hit. In reflecting on the construction of the song with NPR, Ingram noted that Jones drew inspiration from, of all things, his wife's lingerie: "[Quincy] is married to Peggy Lipton, and her lingerie said 'Pretty Young Things." So Quincy had the title 'Pretty Young Thing: Tender Loving Care,' and he put a lot of writers on it." Up for the task, James delivered a snippet of what he had created thus far, and Quincy was so impressed by what he had heard he demanded they cut the record the next day. "Just like that," James adds.
During their session, James noticed Jackson's uncanny recording technique: "Michael was in the studio singing, and he was dancing at the same time while he was singing. Now me, I may bob a little bit, but I'm holding all my breath for the microphone, and I've never seen nobody, and Michael came out of the studio sweating. He said, 'James, am I singing all right?' I said, 'Man, you killed it. You can sing however you want to sing it.'"
But the song was still missing some magic, which Michael sought from a familiar source: his sisters Janet and LaToya traded off on the "na-na-na-nas" with him. "I was 16 and in between my first two records," Janet shared with Billboard. "He invited me to the studio where he was about to sing 'P.Y.T.' and asked me to help out on background vocals. Since we had been singing together forever, I knew it'd be easy. I jumped at the chance."
Of equal note is the playful slang and hyperbole that James Ingram incorporated throughout the course of the song. "I liked the 'code' in the lyrics," Michael told Rolling Stone, "and 'tenderoni' and 'sugar fly' were fun rock & roll-type words that you couldn't find in the dictionary."
In further exploring his contributions to Thriller with Future Music, Bruce Swedien credited keyboardist Michael Boddicker with designing the song's signature sound. "We used a lot of Minimoog. […] He programmed the Minimoog and he owned the best-sounding synths at the time. […] He was a big part of 'P.Y.T.' -- he is programmer deluxe. The vocoder was a bit different for a pop record but we never wondered if it was the right thing to use. When you're working with the talent and stature of Michael Jackson and with Quincy Jones in the room, those questions never get asked."
But what about its infamous outro? The one that had us all scratching our heads trying to decipher the lyrics? With advances in modern technology, we're now able to pitch-shift those quirky chipmunk vocals with mind-blowing results.
"I wanna love, you P.Y.T.
I wanna give, you T.L.C."
While it's unclear why Jackson never performed the song live, it still remains a fan favorite and was a very successful single, peaking at No. 10 on the Billboard Hot 100. And while singers such as Robin Thicke, Justin Guarini, T-Pain, will.i.am, and even Kanye West have attempted to recapture its magic with varying results, Michael's rendition remains undefeated. "It's a gift," James Ingram revealed as the source of Michael's superpowers. "When he came out the womb, that was part of his package. That was part of his D.N.A."