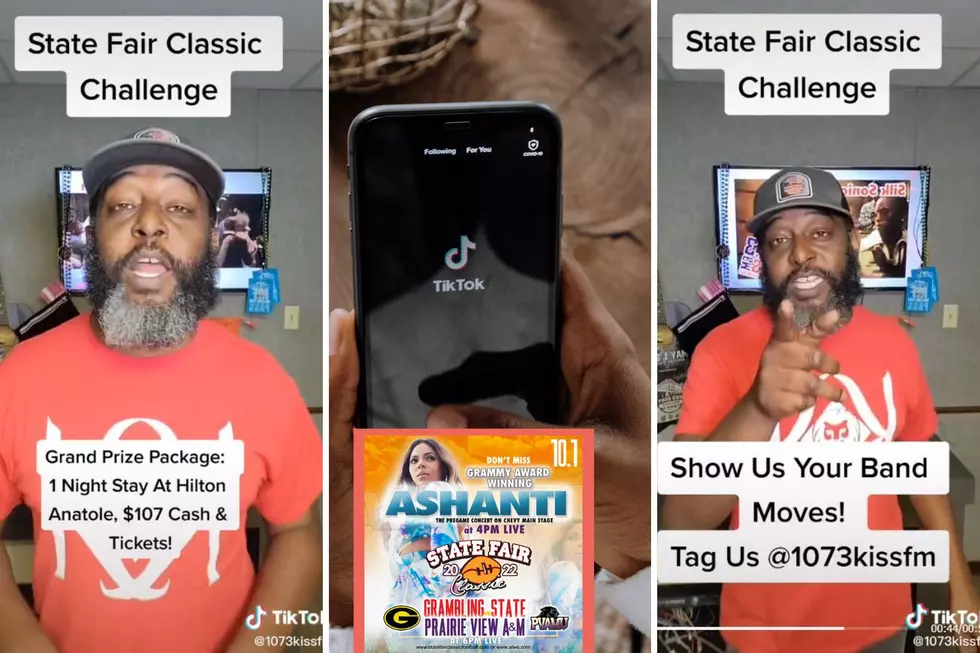 The State Fair Classic Challenge On TikTok: Win A Grand Prize Package East Texas!
Melz
We're just a few days away from the big game: The State Fair Classic in Dallas on Saturday October 1st at The Cotton Bowl.
As you know we got the hookup for you to win tickets everyday when you listen to Melz On The MIC in the afternoon from 3pm to 7pm. We've been watching everyone having fun making videos on TikTok and so we decided to put your TikToking creativity to the test and hook you up with an incredible GRAND PRIZE package to the 2022 State Fair Classic!
Here's Melz On TikTok With The Details!
That's right yall, we want to see your best BAND MOVES for a chance to win an incredible prize package which includes:
1 Night Stay At The Hilton Anatole Dallas
$107 In Spending Cash
2 Tickets To The State Fair Classic
Create A TikTok Of You Or Your Family & Friends Showcasing Your Best Band Moves.
Find a "band sound" on Tik Tok and create a video showing us your best HBCU marching band moves or maybe you was a "dancing doll" or "color guard" or "flag person" in the band back in the day, show us your skills and make sure you TAG us on your video so we can see it!
Follow Us On TikTok: @1073kissfm
First follow us on TikTok, you can find us @1073kissfm. Then create your video, tag us in it and post it! If you win we'll shoot you a message and let you know how to claim your prize and who knows, you might even see yourself on the big screen at the State Fair Classic in Dallas! Get busy this weekend and hurry, we will pick a winner TUESDAY SEPTEMBER 27TH!
Your Rose City Music Fest Ticket Includes Sampling from 15+ Great Tyler Restaurants
On Saturday Oct. 8th, our inaugural Rose City Music Festival is taking over downtown Tyler, TX. Now, you already know about the great live music from Koe Wetzel, Nelly, Fritz Hager III and more, but what about food?
Did you know that we're including in each Rose City Music Festival ticket sampling from over 15 of the best restaurants in Tyler? Check it out:
Look Inside Comedian Steve Harvey's Former Texas Estate
2 years ago, Family Feud Host Steve Harvey sold his Little Elm Texas estate for just over a Million bucks! Let's be nosy and look inside!
Behind The Scenes Of Uncle Jacks Kitchen On The Texas Bucket List
The award winning show stopped by Tyler seafood favorite Uncle Jacks Kitchen.