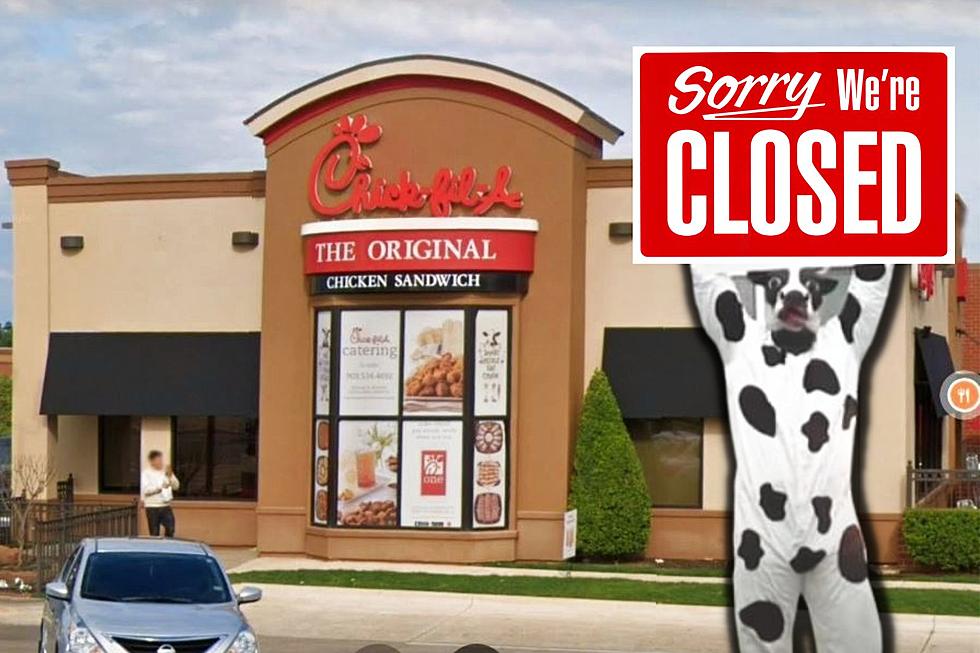 Wow! Very First Chick-fil-A Ever Has Closed its Doors After 50 Years
Google Maps, Screenshot from Taco Truck YouTube video, Canva
The very first Chick-fil-a location to ever open its doors has closed permanently after more than 50 years in Atlanta, Georgia.
Sure, stores and restaurants close their doors every day around this country of ours, including here in East Texas, unfortunately. However, it's hard to imagine that any location of Chick-fil-a would ever shut down, given the incredible popularity of this fast-food chain. And the fact that the FIRST EVER Chick-fil-a would be closing down is extra shocking.
I'm not sure I've ever driven past a Chick-fil-a restaurant when the drive-thru lines weren't PACKED, or at least quite busy. And despite the fact that new Chick-fil-a's seem to be popping up every day, the traffic at these places never seems to slow down.
FOX 26 out of Houston, Texas shared a story from their cohort in Atlanta, Georgia, FOX 5 announcing the closure of the 1st ever Chick-fil-a to open its doors.
According to a story from FOX 26, it was back in "1967, [when] Truett Cathy opened the first Chick-fil-A restaurant in Atlanta's Greenbriar Mall on Greenbriar Parkway." That means it has been more than 50 years the store has been in business sharing the signature chicken sandwich the world adores so very much.
So why did the proprietors decide to close such an iconic location? 
Actually, no specific reason was given as to why they made the decision to close. It is also interesting to note that actually, Truett Cathey had opened another restaurant previous to this one. However, it was called the Dwarf House. But it was the in-mall location that was first given the name "Chick-fil-a." (Probably a better name choice, overall, in my opinion.)
Since that first Greenbriar Mall location opened in Atlanta, Georgia, over 3,000 Chick-fil-a stores have sprung into existence around the country. And aren't we all so thankful for that? (Well, except for the world's chicken population, of course.)
Truett Cathey's story about the birth of Chick-fil-a is an interesting one. Are you familiar? If not, you may find this video quite interesting to watch today. Take a look:

Is anyone else craving Chick-fil-a now? (If so, it's likely on a Sunday.)
How To Make Your Own Chick-Fil-A Sauce
There is a shortage of Chick-Fil-A sauce so a simple solution is to make your own. It is only 6 ingredients and you will be able to dunk your nugs all you want.
17 of the Very Best Places for Homestyle Comfort Food Around Tyler
Some days, we just want to go somewhere that serves freshly-made, homestyle comfort food. Ya know, the kind of food that seems to feed our hearts and souls, too.
Check Out These 17 Popular Brands That Were Created in Texas
Texas is certainly an entrepreneurial state with the proof being in these 17 very popular brands getting their start in our great state.